Income Tax Preparation – Las Vegas
Business and Personal Tax Return Preparation in Las Vegas
Ratio CPA will take the time to carefully and accurately prepare your corporate, partnership and individual income tax returns.
We pride ourselves in paying attention to details and maximizing your tax savings on a tax return. If your tax liability is very high, we may be able to advise you regarding solutions, as we specialize in tax reduction planning.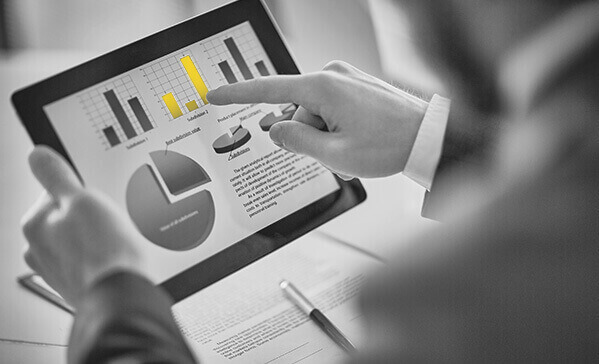 What types of tax returns do you prepare?
We prepare business and individual income tax returns. We specialize in preparing complex returns – whether you're investing, have multiple sources of income in multiple states, or participate in advanced tax reduction strategies (conservation, ITC, QOZ, etc.), we'll be happy to prepare and file your income tax return!
How do I give you my tax documents?
We do our best to be an environmentally friendly, paperless office. 92% of our clients have never had to give us a single physical document!
We grant our clients access to secure document sharing portals as well as top of the line income tax preparation portals and tax organizers. Everything can be done online – quickly and stress-free, without the need to leave your home or office.
How much do you charge for income tax preparation services?
That depends on the complexity of your income tax return. We do not post fees online as every return is different. To receive a quote:
Schedule an appointment with us and tell us a bit about your tax situation. Initial consultations are no-strings and complimentary.
Upload your previous year's income tax return(s) via our secure document portal for a quote
Most clients know their entire fee upfront – though this is not always possible with new clients or clients with very complex returns.
Accept our quote and sign an engagement letter
We do our best to stay away from charging by the hour in favor of project-based fees. Our clients usually know their entire tax service fee upfront.
Who will be preparing my income tax return?
We never offshore or outsource our tax returns, nor hand your returns off to lower-level staff. Your income tax return will be prepared from start to finish by tax professionals with years of experience. All our tax preparers are Certified Public Accountants (CPAs).
You will be in touch with your tax preparer from start to finish and can schedule a call or email us if you have any questions.
Do you amend previous year's income tax returns?
Yes. Many of our clients come to us with doubts regarding their previous year's income tax returns. We will be happy to analyze past returns, and, if necessary or opportune, file an amended income tax return with the IRS, and/or state Department of Revenue.
Do you represent clients in IRS or State audits?
Yes, we do.
Do companies operating in Las Vegas, NV need to file a Nevada state income tax return?
No! Thankfully, Nevada has no state income taxes so companies operating in Las Vegas (and the rest of Nevada), or individuals living in Las Vegas, do not need to file a state income tax return.
However, if you received income from a state other than Nevada, you might need to file a return for that particular state (and we'll be happy to prepare and file it on your behalf).
Does a CPA firm have to be licensed in a certain state in order to prepare a tax return for that state?
No. Unlike attorneys, insurance agents, or financial advisers, a CPA does not need to be licensed in every state in order to prepare income tax returns. Ratio CPA serves clients in all 50 states: Nevada, Colorado, California, Illinois, Wisconsin, New York & New Jersey to name a few.
What other accounting or tax services does Ratio CPA provide?
Apart from corporate, partnership, and individual income tax preparation, we provide the following tax services:
tax planning
In addition, we can advise you regarding insurance planning and investments/wealth management.
We offer all our services to our Las Vegas clients, as well as clients located throughout the US.
How long will it take you to prepare my tax return?
That depends on the complexity of your return. It could be days or weeks. A tax professional will let you know an approximate timeframe once you agree to work with us.
We advise clients to give us their tax documents as soon as possible, so we may start the preparation and filing process as soon as possible. This eliminates a lot of stress – on both sides!
Will I be getting a tax refund?
Your tax refund depends on a wide range of things: your deductions, withholdings, any tax reduction strategies you implemented throughout the year, your sources of income, contributions to retirement funds or charities, number of dependents, etc. We cannot promise that you will receive a refund, but will do our best to maximize your tax savings when filing your business and individual income tax returns.
What types of businesses do you work with?
Ratio CPA has experience preparing income tax returns for medical & healthcare practices, veterinary clinics, software, and IT companies, consulting firms, financial advisory firms, restaurants, retail companies / stores, real estate firms, professional services companies, and many others.
How do I know if I can self-file using a tax software or need a CPA to prepare my tax return?
If you are a high income earner, own a business, have multiple sources of income or multiple investments, or other tax complications, it's always best to hire a professional tax return preparer. The more complex your tax situation is, the less it makes sense for you to trust software to get things right, and the higher the risk that a mistake will spark an IRS audit.
Ask a Certified Public Accountant if your tax situation warrants professional tax preparation.
Will Ratio CPA prepare my business return as well as my personal income tax return?
Absolutely – we will be happy to prepare and file all of your income tax returns.
There are so many tax preparation services in Las Vegas. How do I choose?
We recommend choosing a reputable, experienced CPA firm that focuses on quality, and not quantity!
Before selecting a firm, schedule a consultation and ask questions regarding income tax return preparation, such as:
Who will be preparing my return?
Have they filed similar returns in the past? What types of business owners or individuals do they work with?
What will they do to limit my tax liability?
Will I be charged anything for asking questions?
Will they be able to handle my other tax needs?
How do I hand over my tax documents? Online or do I need to drive to an office location?
Ratio CPA
Las Vegas Income Tax Preparation
410 S Rampart Blvd Suite 390, Las Vegas, NV 89145, United States
Request a quote: (800) 366-2760
WHAT CLIENTS SAY ABOUT OUR INCOME TAX PREPARATION SERVICE IN LAS VEGAS
Aksh Gupta
I have worked with Eli and the team for two years now. I started with tax strategy and filings for one company in the first year, and now, I have given them all my businesses. Very professional and clear in communication.
Varun Chowdhary
Eli and Paulina are absolutely fantastic to work with. They are very quick to respond to emails and always address my questions and concerns in an organized and comprehensive manner. Their level of enthusiasm and professionalism is evident in their work, and I am definitely going to be a long-term customer. They are honest, completely online, informed regarding physician-related issues, and are always looking out for your best interest. Thanks!
Sandy Valino Doyle
I sought out a CPA online after writing a check to Uncle Sam this year following the loss of classic popular tax deductions in 2018. Eli and Paulina were amazing in introducing this already tax-savvy medical professional in helping me lay out a feasible tax reduction plan. Not only is SmartCloud CPA well-organized, tech-savvy and professional, but this company is also very kind and trustworthy. I highly recommend them for all high-income professionals! You'll wish you met them sooner!